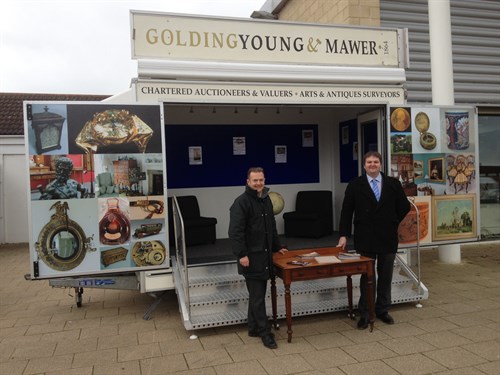 Golding Young Mawer celebrates 150 years with special events
The Lincolnshire-based firm, Golding Young and Mawer are celebrating their 150 year anniversary by running a focused roadshow programme across the East Midlands throughout 2014.
Colin Young, Managing Director said: "A roadshow seemed like the perfect way to celebrate 150 years success. What better way to meet with and say thank you to the people who have helped to make the business what it is today."
The programme commenced at the Peterborough Festival of Antiques on the 21st and 22nd March and was a perfect success, leaving a feeling of optimism for the remaining dates throughout 2014.
The branded roadshow trailer, supplied by DWT Exhibitions, gained a well-known admirer on it's first event; Bargain Hunt's Tim Wonnacott and the experts visited the stand during filming in March.
The highlight of the events programme will be a special 150th anniversary sale on September 2-4 taking place across the three salerooms on consecutive days.
To find out dates and venues for the roadshow visit: http://www.goldingyoung.com/news-blog/2014/04/150th-anniversary-roadshow/