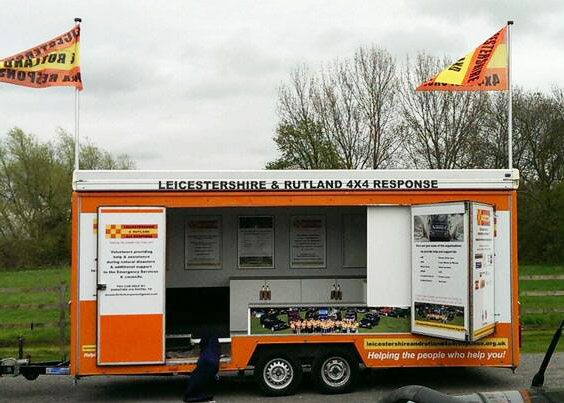 Leicestershire & Rutland 4×4 Response Group receive £10,000 Lottery Funding
A 4×4 response group for Leicestershire & Rutland are delighted to have received a £10,000 Grant from Awards for All lottery funding for local communities. The grant has been awarded to fund the development of a project to coordinate their work.
Leicestershire and Rutland 4×4 Response is a voluntary group whose members use their own time and vehicles in times of flood and snow to assist in the community, particularly those who are vulnerable.
They work with the East Midlands Ambulance Service and the local Primary Care Trust to name just two. Duties might include transporting nurses to work or to patients, transporting Marie Curie Nurses to nightshifts, meals on wheels and assisting ambulances in and out of the station.
The group was founded by chairman, Simon Dale, in January 2010 and now has over 50 active members. As a registered charity, the members all pay yearly subscriptions into the club, attend monthly meetings.
Speaking about the group's success, Simon Dale says "The group has grown beyond my expectations since I started it in January 2010. Over the past four years, we have worked very hard to become recognised and in the last year especially, our profile has rocketed."
"I sit back and look at what has been achieved in this time, it is truly incredible what the members give and it makes the group what it is."
"The grant we have been awarded is going to enable us to reach more people, work with more organisations and coordinate bigger responses. It will also allow us to attend more events and recruit more members."
The project is based on a trailer that will be customised specifically for the needs of the club by DWT to enhance the services they provide within the local area. It will include a radio base station, running water and have a power supply.
When it is not being used as a command centre for response operations, the group hope to use it as a promotional display trailer at events and attract new members whilst building the group profile within Leicestershire and Rutland.
To find out more visit: http://leicestershireandrutland4x4response.org.uk/